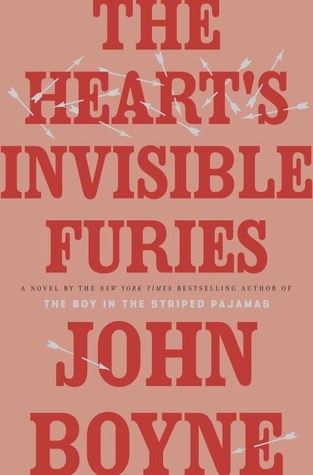 This book starts with a young girl being kicked out of her church because she is pregnant. The church and her family toss her out and she heads off to Dublin.
On reading the first bit of this story I thought everyone five starring this book had lost their minds…it wasn't bad but I was not turning pages very fast. (Partly due to being sucked into the Netflix void called Wentworth..not sorry)
Then the baby is born and we meet Cyril…and then I began to understand the rave reviews.
Cyril is given up for adoption by that young girl and is adopted by Charles and Maude. Charles and Maude Avery are a different kind of couple..and they make sure that everyone knows that Cyril is not a 'real Avery.' They don't mistreat Cyril so don't think it's the poor abused orphan story..they are just very different. (You are going to have to read this one because nothing can describe this book.)
Cyril starts to grow up and begins to realize that his feelings for his best friend Julian are not what the people around him would feel comfortable with. Including Julian himself. So Cyril must keep his true feelings hidden except for going to confession with a priest. (That goes so badly but I snorted coffee out my nose and across the room.)
This book is the story of a life. The ups and downs. The funny and the heartbreaking. It takes you through that life with Cyril and you live though the fear that homosexuality might be discovered where it was illegal. You live through the early AIDS epidemic..you live this life right alongside this character.
And it's a magical trip.
The only thing I'd have to say bad about this book is that I think the size of it may keep people from reading it. They are going to miss out because I loved every single page.
Booksource: I received a copy of this book from the publisher in exchange for review.