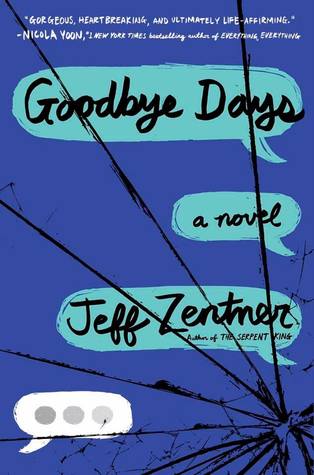 This author wrote one of my all time favorite books…The Serpent King. If you have not read that one just go now. I'll wait.
So my expectations for this one were pretty high.
And it made me feel like an old hateful woman. I'll get to why in a bit.
(This is not a spoiler either-so cool your drawers) Carver sent a text to his three best friends. Where are you guys? Text me back
That text is more than likely what caused his friends to be in a fatal accident. So Carver has the guilt. Then he finds out that he may actually face charges of negligent homicide for contributing to their deaths.
I hope no one reading this is still texting and driving. Because it gets me ragey.

BUT the book is done well in telling the young adult world the dangers of that stuff. It hurts. Jeff Zentner brings hurt to the table like no other young adult author that I've ever read.
He writes the feelings that Carver and the remaining family members go through very much in a way that made even my hateful heart break.
Then I kinda got to the point where I felt like my feelings were being deliberately manipulated and I felt like the line got crossed.

Another thing that really bothered me in this book was the fact that these boys were supposed to be seventeen. Then we get flashbacks (yes, I do know that some of them were years old)..where I felt like they were twelve. I have a teenage boy and have raised two others. I know what dumb-butts they can be..but then they tell the fart jokes and then you have a passage where the main character sounds like an educated adult?
I reflect on the mundane rituals, laid end to end, that form a life. We work to make money and then hopefully use that money to buy ourselves memories with the people we love. Simple things that bring us joy.
There was good in this book though, no insta-love and no common tropes. Zentner is way better than that. I'm torn on how to rate this so I'm just going with the middle ground and giving it three stars. I'll still read anything he writes.
Don't milk me for tears next go round though.

Booksource: Netgalley and Crown books in exchange for review.