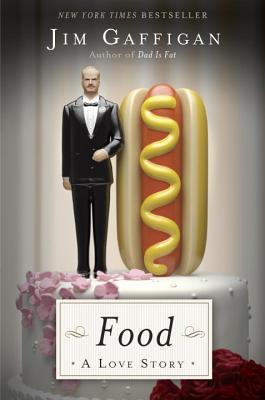 I think I found my long lost brother…

Yes Jim..I do.
A book on totally embracing all your food sins? Sign me up. I try and eat healthy..Avoid McDonald's, Not eat Bacon for everymeal (Notice how Bacon gets capitilized-it should always), eat some veggies..and fruit.

Who am I kidding? In this book you don't read it for the fruit! You read it to have fun with food. Even when it kills you.

Jim Gaffigan doesn't care if you eat McDonald's. He admits he does. Even when he hides behind the counters so that you can't see him there.

I think he might be a chubby evil genius though. He comes up with the idea of restaurants helping you when you go out to eat. Instead of wine sommeliers the joints should have "fattelier"
Case in point:
Fattelier: Well, I'd get the chili cheese fries with the cheese on the side. You get more cheese that way.
Genius.
Now is Gaffigan a foodie? Heck no. He is an "eatie" I think I'm going to give up being a foodie and just join his idea. It sounds like way more fun. Plus, I'm kinda lazy too. So win win.

Now I do know that Gaffigan gained some fame from his routine with "Hot Pockets" and there is mention of them in this book. But that part was the most boring thing in the book so I admit to skimming there. I'm not even brave enough to eat those suckers. So ain't nobody got time for that.

He also is not a big fan of sea-bugs seafood so if you love the stuff just get prepared to maybe not love it so much after reading this book.

The book is fun though. He takes you to some of his favorite burger places, places to get BBQ, talks about grits in the south, describes the eating experiences of American holidays…I loved it.
So just embrace your eating. At least as long as it takes to power through this book. Because you gonna be hungry. Not for kale either.

Booksource: I received a copy of this book from blogging for books in exchange for review.