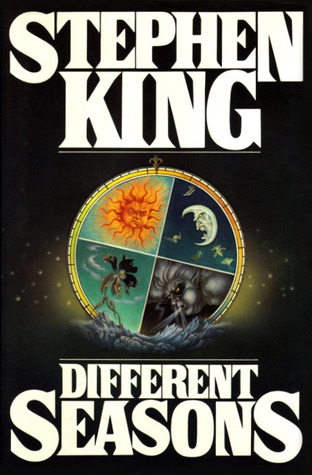 I'm going to try and do this book justice..but I know it's not going to happen so do me a favor, if you have never picked this book up just stop what you are doing and run get it.
Rita Hayworth and the Shawshank Redemption:
This is perfection. At 101 pages Stephen King packed a story that stays with me forever. I've been a fan of the movie version since the first time I viewed it. I was so pissed when Forrest Gump beat it out as the Oscar winner for best picture that year. I raged..I've since calmed down because Forrest Gump was a good movie also..but still.
I've watched the movie so many times that I can quote passages of it from heart, and I'm not really a TV watcher. If it comes on I watch it. If it comes on again the next day. I watch it. To this reader the movie is a bit darker than Stephen King's story.


This story is not horror. This story is about Hope..it's about picking yourself up every single day and keeping moving..it's about Redemption.

Apt Pupil:
To me this was the darkest story in the book. A young boy learns that a former Nazi general is living nearby and well he stalks him and then latches on to him. He honestly forces him into a strange relationship. They both are some of the most vile characters ever but you don't have to like the characters to realize what an amazing story this is.

The Body:
Another of my favorite films were made from this story-"Stand by Me"-I actually have not seen this movie in years but I will now.
This story is sadness of remembering your childhood friends and some of the crap you managed to survive.

Breathing Method:
This one to me started slow. Then when the story unfolded I sat here and shook my head. A woman's desire to have her child out-weighed every obstacle in her course.
And overall? This book was a full five stars. I would give it more if I could. It's hard to describe these stories. They aren't horror but they are about life. I wish I could have done them better justice..but I don't think there are words that can.

This quote is in the afterword of the book, where Mr. King tells how he got typed as a horror author..not that there is anything wrong with that.
I've been in love with these stories, too, and a part of me always will be in love with them, I guess. I hope that you liked them, Reader; that they did for you what any good story should do-make you forget the real stuff weighing on your mind for the little while and take you away to a place you've never been. It's the most amiable sort of magic I know.